A unique first degree experience for ambitious students.
BITS Pilani and RMIT have come together to create this Academy to give you a world of career opportunities, and expand your horizons beyond home shores. The Academy offers you a unique opportunity to study in two countries, at two globally recognised institutions, and receive two degrees.
In the first half of the degree, you will live and study at a BITS campus, in Pilani, Hyderabad or Goa. Here, you will enrol concurrently into both BITS and RMIT, where you will study mainly BITS subjects, but also gain exposure to RMIT subjects.
As a student at the Academy, you will be flown to Melbourne during your first 2 years of study for a 2-week introductory intensive. You'll be immersed in the academic and social culture of RMIT and Melbourne. When you return in your third year, you'll already know the campuses and you'll see some familiar faces. The Academy will pay for your flights, accommodation and meals.
The second half of your degree will be at RMIT campuses in Melbourne, Australia. There you will experience life in Melbourne and be immersed in a new academic environment.
Upon graduation, not only will you receive two degrees (and have the option to attend two Convocation/Graduation ceremonies) but you will be eligible for post study work rights in Australia for up to 4 years or have a direct pathway to an RMIT postgraduate program.
Take a look at the exciting programs being offered at the BITS-RMIT Higher Education Academy.
Thinking about a PhD?
The Academy will also offer PhDs to select students. 
BITS-RMIT Higher Education Academy PhD projects will be chosen by and supervised by leading academics from both Universities. The Academy will focus on creating areas of new knowledge that will assist India and Australia with the biggest challenges facing our nations. A PhD will not only elevate your world view, but it may make a real difference to the communities around us.
Read more about the BITS-RMIT Higher Education PhD Program.
Learn more
Student life at BITS Pilani
BITS Pilani is a prestigious institute of higher education in India, with campuses located in Pilani, Goa, Hyderabad, and Dubai.
The institute has a strong focus on research and technology, and offers undergraduate, postgraduate, and PhD programs in various fields such as engineering, science, commerce, and management.
As a student at BITS Pilani, you can expect a challenging and stimulating academic environment. The institute has a rigorous curriculum, with a strong emphasis on practical learning and hands-on experience. BITS will provide you with the opportunity to complete a number of projects and internships as part of your coursework, which will provide you with valuable practical skills and experience.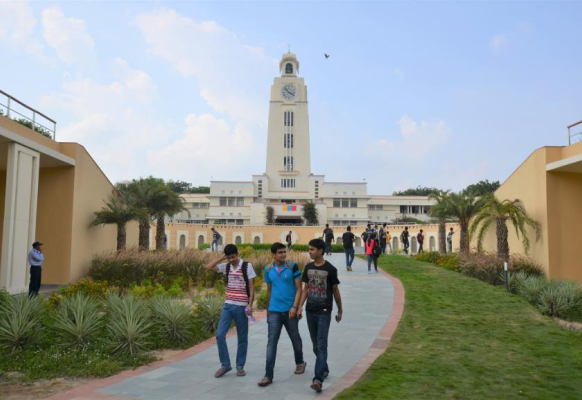 In addition to academic pursuits, BITS Pilani also offers a wide range of extracurricular activities and clubs for students to participate in. These include sports clubs, cultural clubs, and technical clubs, among others. There are also several student-run organizations and societies, which offer opportunities for leadership and community service.
You will live on one of the three beautiful BITS campuses in India when you study at BITS Pilani. BITS campuses are equipped with everything you need to stay comfortable, safe and healthy. This immersive experience means you'll make friendships that last a lifetime.
BITS has a vibrant social scene, with many events and activities organized throughout the year. These include festivals, concerts, sports tournaments, and other social events.
Academy courses are taught across three BITS Pilani, world class campuses
Pilani campus
Covered with wooded paths and spread over 328 acres, the campus is self contained and houses all the amenities and buildings that befit an institute of international standards. The programmes are fully residential with 11 hostels for boys and one hostel complex for girls. Around 4500 students live on campus along with 350 faculty members, their family and a vast pool of support staff.
The campus also boasts of a magnificent library complex with a floor area of 65,000 sq. ft and a rich collection of about 2,30,000 volumes of books and manuscripts.
K K Birla Goa campus
Nesting in the lap of verdant hills, overlooking the Zuari River, the Campus is spread over an area of 180 acres. The location of campus is unique in the respect of scenic beauty and panoramic view of picturesque surrounding encompassing Zuari River, hillocks, waterways, forests and landscape.. In the midst of idyllic, sylvan beauty, the Campus houses the Main building, having academic and administrative offices, Guest House, Hostels for boys and girls, Student Activity Centre, faculty and staff quarters, Medical Centre, Playground and Shopping Complex.
Hyderabad campus
The youngest of the campuses of BITS Pilani, the Hyderabad campus began functioning on 29th August 2008. Fully residential, with over 5500 students, and 500 faculty and staff members, the picturesque campus is housed in 200 acres of rugged, rocky terrain characteristic of the region. It is equipped with state of the art infrastructure required for instruction, research, and extra-curricular activities.
Student life at RMIT
Enrolled as both a RMIT and BITS Pilani student from the first day of the program, you will have access to all RMIT student and library services available online whilst based in India, and in person once you have transitioned to study in Australia in year 3.
RMIT is home to a vibrant and diverse student body, which makes for an exciting and enriching student life. With students from over 100 different countries, RMIT is a melting pot of cultures and perspectives, providing endless opportunities for learning and growth.
One of the great things about student life at RMIT is the range of clubs and societies available to students. From sports and recreation to culture and the arts, there is something for everyone. Joining a club or society is a great way to meet new people, get involved in the university community, and have some fun outside of your studies.
In addition, RMIT offers a range of events throughout the year. From music festivals and sporting events to art exhibitions and film screenings, there is always something to do on campus.
RMIT provides many support services to help you succeed, including health clinics, counselling services, and advice and help getting a job. These services are free and confidential, so don't hesitate to reach out if you need help.
RMIT's location in Melbourne provides endless opportunities for students to experience the city's vibrant arts and cultural scene, as well as its many sporting and recreational activities. From beaches and parks to galleries and festivals, there is always something to do in Melbourne.
Student life at RMIT University is a rich and diverse experience, full of opportunities for learning, growth, and fun. We can't wait to see all that you will achieve during your time at RMIT.
Residential accommodation is not available for students at the RMIT Melbourne campus.  Information on how to source suitable accommodation as well as financial, personal and academic considerations to Studying abroad in Australia, can be found on RMIT Student Life webpages.
RMIT Facilities
RMIT University in Melbourne is home to some of the most modern and well-equipped facilities in the world. From state-of-the-art classrooms and laboratories to cutting-edge research centres and libraries, RMIT has everything students need to succeed.
In the centre of RMIT's Melbourne campus, is New Academic Street (NAS) which has created a hub of innovation and collaboration, with a range of new facilities including a learning commons, the campus library, a maker space, and a student centre. The NAS is designed to be a place where students can work, learn, and socialize in a dynamic and supportive environment.
Another impressive facility at RMIT is the Advanced Manufacturing Precinct (AMP). This cutting-edge research centre and learning space is dedicated to developing new technologies and techniques in the field of advanced manufacturing. The AMP is equipped with a range of advanced machinery and equipment, including 3D printers, laser cutters, and robotics, which students can use to develop and test their ideas.
The RMIT Bundoora east campus is a specialist engineering facility, featuring world class facilities and research equipment.
RMIT also boasts a range of world-class libraries and learning resources. The university has six libraries across its Melbourne campuses, with a collection of more than 500,000 books and over 100,000 electronic resources. Students can access these resources online or in person, and can also take advantage of RMIT's extensive network of partnerships with other institutions and organizations.
RMIT University in Melbourne is a place where students can access world-class facilities and resources to support their learning and development. Whether you are interested in advanced manufacturing, business, design, engineering, or any other field, RMIT has the resources you need to succeed.
RMIT University campuses feature award-winning buildings and some of the most technologically advanced facilities in the world
Melbourne City campus
The RMIT Melbourne City campus is located in the cosmopolitan heart of the "world's most liveable city" and is surrounded by public transport, restaurants, cafes, theatres, galleries and parks.
The City campus has 45,000 students studying in across all major interest areas. The campus has been an integral part of Melbourne's character for more than one hundred years.
Unlike other university campuses, it isn't closed off, or surrounded by walls – City campus life is Melbourne city life.
The campus is accessible by public transport and provides key features such as libraries, study spaces, Wi-Fi, childcare and a bustling fitness centre.
Bundoora campus
The Bundoora campus, in the north-eastern suburbs of Melbourne, is set in a tranquil parkland environment complete with outdoor sporting facilities.
The Melbourne Bundoora campus is 18 kilometres north-east of Melbourne's city centre – a relaxing environment surrounded by open spaces and native parklands. The campus, with East and West sections on either side of Plenty Road, houses many of RMIT's engineering, health and medical sciences and education programs.
Graduate career opportunities
As a graduate of BITS Pilani and RMIT University, you have a wealth of career opportunities available to you in Australia, India and globally.
Like BITS Pilani, RMIT is a world-renowned institution with a strong reputation for producing graduates who are highly sought after by employers. Here are just a few of the many career opportunities available to RMIT and BITS graduates globally.
Melbourne life
As an international student studying in Melbourne, you will have the opportunity to experience life in a vibrant and diverse city.
Melbourne is known for its lively arts and cultural scene, its beautiful parks and gardens, and its thriving food and coffee culture. Here are a few things you can expect as an international student living in Melbourne:
Cultural exchange: Melbourne is home to a diverse population, and as an international student you will have the opportunity to interact with people from all walks of life. This can be a great way to learn about different cultures and make new friends.
Opportunities to work while you study: As an international student in Australia, you are allowed to work up to 40 hours per fortnight while you study. This can be a great way to earn some extra money and gain valuable work experience.
A high standard of living: Melbourne is known as a great place to live. From public transport to healthcare, Melbourne has everything you need to live comfortably and safely.
An active lifestyle: Melbourne is a great place for outdoor enthusiasts, with a range of parks and beaches to explore. Victoria is home to spectacular national parks which you are welcome to explore with your friends. You can also participate in a many sports and recreational activities, from football to yoga.
Life in Melbourne for an international student can be exciting and rewarding. With its diverse culture, opportunities to work while you study, and high standard of living, Melbourne is a great place to study and live.